Antimicrobial Copper
Copper is a powerful antimicrobial with proven rapid, broad-spectrum efficacy against pathogens threatening public health in both hospitals and the wider community. Recent clinical trials around the world have confirmed the benefit of deploying touch surfaces made from antimicrobial copper to reduce microbial contamination and lower the risk of acquiring infections, improving patient outcomes and saving costs.
Copper and more than 450 copper alloys that benefit from copper's inherent antimicrobial efficacy have been granted a registration by the US Environmental Protection Agency (EPA), permitting them to be marketed in the US with public health claims. Antimicrobial Copper is shorthand for these approved alloys and their close equivalents. It is also the brand associated with an industry stewardship scheme which helps suppliers market, and specifiers identify, efficacious alloys and products.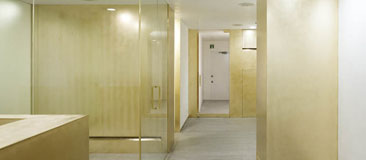 Antimicrobial copper surfaces in a medical clinic
Antimicrobial Copper Applications
Antimicrobial Copper can be harnessed to continuously reduce microbial contamination and help prevent the spread of infection in a wide range of applications where hygiene is important, such as
touch surfaces, food preparation areas and heating, ventilation and air-conditioning (HVAC) systems.
Touch Surfaces
In recent years, government and commercial advertising campaigns have raised awareness of the risk to public health posed by bacteria and viruses on hard surfaces, particularly at the height of threats from influenza and norovirus. It is reported that 80% of all infections are spread by touch, and a contaminated hand can contaminate the next seven surfaces it touches. Hospitals, in particular, faced with the problem of healthcare-associated infections (HCAIs), are looking more closely at the role of the environment in the spread of these infections as hand washing campaigns alone have failed to control the problem.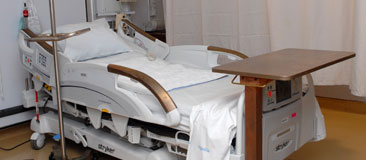 Healthcare touch surfaces
Antimicrobial Copper offers a new approach in that it can be built into key areas and act as a continuous antimicrobial surface, all day, every day. It is a new way of thinking: employing an engineering material with intrinsic antimicrobial properties to help protect public health.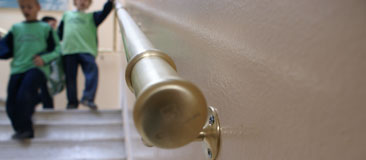 Education touch surfaces
When used to supplement standard hygiene practices, such as hand washing, cleaning and disinfection, copper reduces contamination and the risk of infection. In hospitals, clinicians have identified medical equipment (e.g. bed rails, drip poles and stethoscopes), furniture (e.g. chairs, overbed tables, bedside cabinets) and fixtures and fittings (e.g. taps, door handles and light switches) as high risk touch surfaces. In other environments, like schools, daycare centres, airports and train stations, touch points like door handles, sink areas and hand rails are considered key surfaces.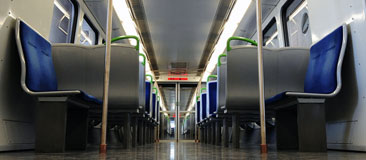 Mass transit touch surfaces (Courtesy Codelco)
Heating, Ventilation and Air-conditioning
Heating, ventilation and air-conditioning (HVAC) systems are believed to be factors in over 60% of all sick building situations and can also benefit from Antimicrobial Copper components such as filters, cooling fins, drip pans and tubes which eliminate bacterial and fungal growths that typically thrive on damp internal surfaces. This can improve the system's thermal and electrical efficiency as well as, potentially, the resultant air quality. Apart from commercial and public buildings, controlled air spaces such as operating theatres and food preparation areas may especially benefit.
Food Processing and Preparation
The incidence of foodborne infections and high spoilage rates suggests that current measures are not always effective in minimising contamination of the world's food supplies. Hygienic surfaces, made with copper and copper alloys, can be used in food processing facilities to help reduce the risk of cross-contamination of moulds and even dangerous foodborne pathogens. Copper has an intrinsic ability to destroy these dangerous microbes quickly at both refrigeration temperature (4°C) and room temperature (20°C).
Suggested applications include dry food contact surfaces (e.g. mixers, transfer chutes, conveyors and work tables) and touch surfaces (e.g. door furniture and taps).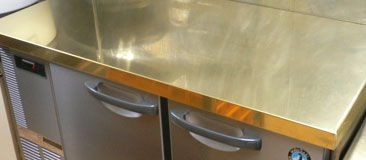 Food processing and preparation
For more information or to purchase antimicrobial copper please contact sales on 01527 405 600.
Links to Further Information
For detailed information on antimicrobial copper, visit www.antimicrobialcopper.org.